It was 1948 and a Youth for Christ missionary and colleague of Billy Graham, Dr. Robert Finley (photo below), was in China and then Korea, preaching the Gospel to crowds in excess of 15,000, fulfilling the missionary desire the Lord had placed in his heart. He saw firsthand the way various Communist leaders in the Far East were reaching out to the people with their ideology. But as the battle between the Communist and Nationalist forces for control of this strategic land raged, he saw something that truly made an impact.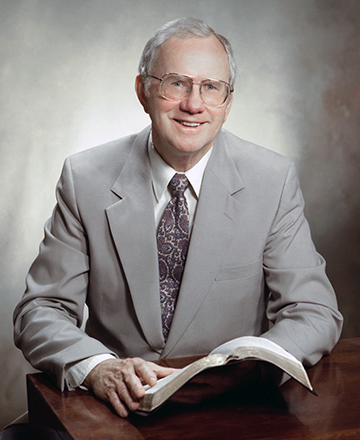 Winning Converts
Most of the Communist leaders of that era had been converted to atheistic ideology while in Europe or America as foreign students. They returned to their native lands to live among the poor and middle class, propagating Communism and winning converts.
At the same time, countless Christian missionaries from the United States and other industrialized nations—though living far below their accustomed standard back home—were perceived differently by the people they were trying to reach. Faced by this dichotomy, many people turned to the ideology they falsely believed truly cared for them: Communism.
Reaching the Unreached
Robert Finley, saw that the native Christian leaders of each country—believers who spoke the language, knew the customs, and lived with the people they were trying to reach—were completely capable of evangelizing the lost and taking the Gospel to their corners of the earth. He returned to North America, determined to arouse the churches about the effectiveness of indigenous missions. Citing Acts 2:5-11 and 8:1-4, he said the best way to plant a Christian witness in closed countries was to reach people from foreign lands when they were away from home; then, when they return to serve Christ in their homelands, we must get behind them with intercessory prayer and financial assistance.
How the Ministry Began
To meet this goal, Dr. Finley started International Students, Inc. (ISI) in 1953 in Washington, D.C. At the same time, he began a division of ISI that was charged with providing financial assistance for indigenous ministries in poorer countries. In 1968, the AID (Assisting Indigenous Developments) Division of ISI was spun off as Christian Aid Mission.
In 1953, the International Students ministry was founded in Canada and for the first sixteen years the vision for reaching foreign visitors and helping indigenous missions was shared with numerous churches across Canada. In 1969, the society was formally incorporated under federal charter and registered in Ottawa under the name of "Christian Canadian Mission to Overseas Students" or "Overseas Students Mission" (OSM) for short. The Mission moved its small office in Willowdale to Fort Erie, Ontario in 1972. James Eagles became the Mission's first full time Canadian manager in 1981. In 1986 the Overseas Students Mission had its name changed to Christian Aid Mission. James Eagles has served as President and CEO along with the Canadian Board of Directors since 1988. In 2007 the name was changed to Intercede International to avoid confusion because there were by that time three other ministries using the words "Christian Aid" in their name.
Over the years, a continual procession of Christian leaders from every nation began to make their way to visit the Canadian mission centre and from there into churches right across the nation.
Today Intercede International continues to partner with indigenous missions and the men and women of God who labour tirelessly to establish a witness for His name among their nations.
A Witness for the Lord
Intercede International's goal is to have a part in planting a witness for the name of our Lord among every unreached people group on earth. For nearly half a century, Intercede has served as a link between believers in industrialized nations and native missionaries from poorer countries around the world. Part of the work of Intercede is to tell the stories of the native missionaries, to tell about the dedication, effectiveness, and sacrifice of our brothers and sisters around the world. Intercede's other work is to raise awareness of and intercession for the work of indigenous missions.
Today, Intercede International, through the generous partnership of Canadian Christians and Churches, is funding and overseeing Intercede programs being carried out in partnership with 49 indigenous ministries that deploy hundreds of national mission workers on the field. These native missionaries are effectively reaching hundreds of tribes and linguistic groups with the Gospel, establishing churches, and demonstrating the love of God in Christ Jesus through the implementation of extensive relief and development and educational programs and institutions among the poor, the perishing, and the persecuted in more than 50 nations.
They Need Our Help
Native missionaries are hard at work around the world, labouring at great sacrifice for the Lord with very limited resources. At Intercede International we believe each of us can help them spiritually and financially in some way, whether that help is large or small.
Would you like to know more about how you can come alongside indigenous missionaries to spread the Good News of Jesus Christ in a faraway, closed land? They need your help.