July 2022
1 Friday ~ Nepal—Praise Report!
Gospel Outreach Centre reports: "58 saints were baptized by your Gospel partners in mid-April. One young man [Rumesh] shared his understanding of baptism: 'Getting baptized does not take me to heaven, but it is an act of obedience to the command of Christ. It is an important ordinance handed down by our Lord Jesus which identifies us with Him in His death, burial and resurrection. I am not getting baptized because of pressures from my family, friends or my leaders, but because I desire to be faithful to His Word. Pray for me as I try to walk in obedience. Thank you."
702GOC-01-29
2 Saturday ~ Canada
Intercede International carries out its Gospel programs with 49 national ministry partners. The full-time staff works diligently to keep Canadian supporters informed about the work of partner missions. They communicate with, occasionally visit these ministries, and help them with challenges. Please keep in your prayers Intercede staff and volunteers, their health, and the financial needs of Intercede's home operations. 
000INI-10-82
3 Sunday ~ Philippines
"In mid-May my granddaughter was in coma," reports Ruth Palma, leader of Smoky Mountain Ministries. "But now the feeding tube was removed and she is slowly improving and is coming back to life. She has been revived, delivered and healed in Jesus' name. I thought we had lost my granddaughter, Israela Palma, but God granted our supplications. We request your prayers for her quick and complete healing and recovery from a traumatic experience and pain." Please also pray for funds needed to cover the cost of her hospital stay.
801SMM-01-21
4 Monday ~ India
India Christian Ministries' Pastor D has been beaten up by anti- Christians for proclaiming God. He was so much beaten that he was admitted to the hospital for treatment, reports ICM. "This happens to many of those who proclaim the name of God in Chhattisgarh. Even though the Christians, the missionaries and the pastors are being persecuted and beaten, still they stand for God. They are facing a lot of tribulation now. Please pray for the Christians in Chhattisgarh. May they be rescued from the hands of the enemy. Let there be a change."
610ICM-02-45
5 Tuesday ~ Haiti
Pray for God's blessing on and provision for Living Word Ministries' Kingdom Kids program. This outreach currently costs $520 per month per village. The cost entails lesson materials, crafts, and food. Praise God for the many children who already have been reached with the Gospel through this program. Your one-time or monthly gift can make a real difference.
120LWM-02-37
6 Wednesday ~ Nepal
"Sareeta is currently stable and with her weight increasing it seems like she is doing better," reports Evangelical Christian Fellowship. "She is currently being fed liquid food through a tube. She has lost all her ability for speech and needs support to move around. She is getting quality time with and care from her family and relatives around her. Her faith is still strong in the Lord, which makes all of our family very happy. The people whom she served and trained before are all keeping her in their prayers." Please pray for complete healing for ECF missionary Sareeta.
702ECF-01-21
7 Thursday ~ Israel
Pray for the Netivah Christian Ministries team as they plan ahead—that God will be glorified in the work and that many young people will come to a saving faith in Him. Pray that Netivah missionaries will work united in love and purpose to glorify our Lord.
410NCM-01-29
8 Friday ~ Peru
Pray for strength and healing for Segadores missionaries such as Antonia Yalta, who suffers pain due to damaged disks in her back, Clara Huaman, who has diabetes, and Oscar Tello, who has a serious leg problem. Thank you for your prayers.
245SEG-01-21
9 Saturday ~ China
Pray for God's blessings on China Mission's B. Christian Academy. Please pray for the site of the elementary school. The school is looking for a new place with a playground that holds at least 45 students, for a price less than $74,000 per year.
900CHM-03-66
10 Sunday ~ Cuba—Praise Report!
"During the first months of 2022 we resumed the ministry work in the whole country," reports the leader of Churches of the Open Bible. "Despite the conditions many are coming to the Lord. We are discipling the new believers and they have taken water baptism. One hundred souls were baptized in the first three months of the year. Praise the Lord! The Bible Institute is now operating, developing workers for the Kingdom. God has been good, and we were able to graduate a good number of workers recently."
115COB-01-29
11 Monday ~ India
Several Himalaya Crusade missionaries and leaders have passed on to glory recently. Mrs. Rubina Gurung, wife of Pastor H. B. Gurung, helped her husband to start the Himalaya Crusade church at Nagari Tea Garden. She died of a massive stroke at just 53 years old. Yakub Mukhia, a church planter in Nepal, passed away in Nepal during the second wave of COVID-19. Pastor Simon Rai, Payung, Sikkim, passed away due to an illness. Thank you for your faithful prayers for their families and churches.
675HIC-01-29
12 Tuesday ~ India—Praise Report!
John Dinkar, an India Christian Ministries pastor of a church in Solapur, Maharashtra, reports: "Over the years of ministry, we have witnessed God's amazing hand over our lives and here is a testimony that I would like to share. There was a sister who was demon-possessed for five years. Her name is Prakathi. She visited temple after temple to receive deliverance but could not find any. After that she turned to medications to receive this healing from oppression which failed her. One day she entered our church and believed in Jesus and was immediately delivered from the demons and set free." Praise God for His deliverance of Prakathi.
610ICM-01-29
13 Wednesday ~ Pakistan
"I had to come to the U.S.A. for my heart follow-up treatment in December 2021," report William Johnson, leader of Pakistan Gospel Assemblies. "Doctor appointments and some medical tests took about four months for follow-up process, and I was admitted into Philadelphia Hospital. My heart is weak and requires necessary health care treatment. On April 10, I and my wife left for Pakistan. I still need your prayer support." Please pray for his complete healing.
470PGA-01-29
14 Thursday ~ Kenya—Praise Report!
Keengwe Josephat is a graduate of Ebenezer Life Centre's Children's Home and schools. "I am 23 years old and a total orphan," he testifies. "My single mother died when I was young. I am a beneficiary of Ebenezer Children's Home. I was admitted to Ebenezer in the year 2006 at the age of six in nursery school. I have been supported from nursery to the college level. I joined Moi University to pursue a Bachelors' degree in Electrical and Telecommunication Engineering. It is a five-year course, and now I am in second year. Thank you for transforming my life."
572ELC-01-29
15 Friday ~ Jordan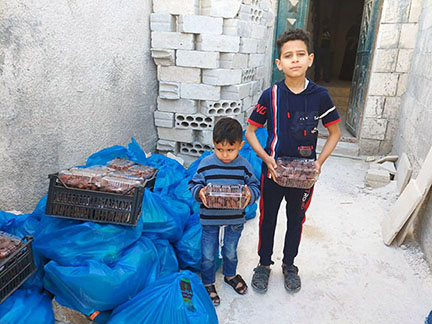 Yemen, at the southern end of the Arabian Peninsula, contains one of the world's worst humanitarian crises. Pray for an end to this crisis and ask the Lord to deliver Yemenis from famine and diseases. Pray for provision for Manara Outreach Ministries' work with Yemeni refugees.
420MOM-02-49
16 Saturday ~ India
Praise God that Peace Ministries India has found a new resident pastor: Joshi Matlapudi. Please pray for provision of support for him and his family. Intercede prayer partners recently have provided $2,200 for this program for their support.
620PMI-01-111
17 Sunday ~ Kenya
One Kenya Evangelism Team pastor has a sick son who has throat cancer, who is in need of $5,740 for his medication. Please pray for his complete healing.
572KET-01-21
18 Monday ~ Tajikistan
Pray for God's blessings on and provision for Churches in Tajikistan's work assisting B. refugees. "Our missionaries and Christian people who accepted Christ through our ministries are now suffering from persecution from radical leaders," reports CIT. "We have decided to help our missionaries to escape from B. and to help our Christian brothers and sisters. Thousands of B. people are crossing the border to Tajikistan and they live under tents. Our missionaries are distributing food and different kinds of needs, including New Testaments and Bibles in the Farsi language. We are distributing food packages, blankets and pillows." Please pray for more provision for this work.
468CIT-02-49
19 Tuesday ~ Ukraine
Pray for God's protection of and provision for Good Samaritan Mission as its missionaries endure the war in Ukraine. Pray for a peaceful end to the current war in Ukraine. Praise God for those who have donated generously for GSM relief work. Pray for God's continued blessings on and provision for GSM's help for Ukrainians displaced by the war in Ukraine.
368GSM-02-44
20 Wednesday ~ Azerbaijan
Recently Brotherhood of Azerbaijan helped ministers of different churches to distribute children's books and Bibles in some regions of Azerbaijan. "In whatever area we visited, there we were met by desperate residents, to whom we preached the Gospel and also gave gifts in which they found Christian literature," reports BOA. "Residents in the districts took books and distributed them to their neighbours. It was amazing to see. This means that what we are doing for Christ with your help is not in vain." Pray for God's continued blessings on and provision for BOA's literature distribution ministry.
465BOA-03-96
21 Thursday ~ Kenya
Cornerstone Evangelistic Ministries requests prayer for thousands of dollars to provide more wells to communities in need. Last year, CEM missionaries struck water in a Turkana village and praised God for that commodity. Praise God that the wells CEM has provided are helping people greatly.
572CEM-02-52
22 Friday ~ Ukraine—Praise Report!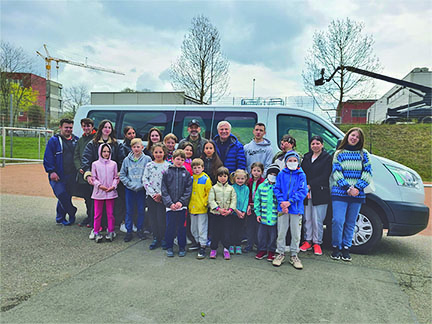 After the war began in Ukraine, Father's House evacuated all its children to Germany. This included 210 children and 40 adults. Since then, children have started to attend public schools. Father's House staff very much appreciate all the donors who have helped with the purchase of a minivan. This is helpful when children are sick and need to be taken to hospital, and for missionaries to purchase necessary things for adults and children.
368FAH-02-33
23 Saturday ~ Turkmenistan—Praise Report!
"Islam is gaining momentum around the world and our country is no exception," reports Churches of Turkmenistan. "The influence of Islamic culture is trying in every possible way to block the work of the churches and the preaching of the Gospel. The persecution of believers is aimed at reducing the number of Christians among Turkmens. But all these measures also have the opposite effect. Turkmens are even more interested in Christ, and more people of Muslim culture are opening up to the Gospel, experiencing God's love and His power. Fresh evidence is the conversion of one Turkmen woman who strictly prayed and came to believe in Christ through the preaching of the Gospel by the local house church. Her husband, having accepted Christ, received miraculous healing from an illness from which he had suffered throughout his conscious life."
466COT-01-29
24 Sunday ~ India—Praise Report!
Sridhar Singh was a students in Orissa Follow-Up's School of Evangelism a few years ago. Now he is part of a mobile School of Evangelism among the Bathudi. Ten students are deeply committed to bring transformation among their own people. Having determination and hard labour of a couple of months now they have seen a breakthrough of 16 people deciding to follow the narrow road. God is working in the lives of the Bathudi tribe who were hostile to the Gospel. Praise the Lord for that.
640OFU-01-29
25 Monday ~ Liberia
Praise God that Christ Evangelistic Fellowship Ministries has dug more than 12 water wells for villages. Currently, there are 20 villages that still urgently need wells. To dig one well will cost about $2,900.
532CEF-02-52
26 Tuesday ~ India
The Orissa Follow-Up Mobile School Of Evangelism needs $2,000 for an 18-month training program. Pray for God's provision for this and His blessing of the program
640OFU-03-68
27 Wednesday ~ Egypt
Reaching All Egypt urgently needs Bibles ($6 each) to spread the Gospel among the unreached in Egypt. Pray for a plentiful supply of Bibles.
408RAE-03-93
28 Thursday ~ Nigeria
Intercede's partner ministry in Nigeria requests prayer for completion of the School of Missions in Abuja. A wind storm removed the roof, and the missionaries need some repairs inside that will cost $2,000.
550GOM-03-67
29 Friday ~ Iran—Praise Report!
Harvest Iran Ministries' Persian Community Church (PCC) began meetings on Zoom in April 2018. "In 2021, with COVID-19 seriously inhibiting public meetings, PCC flourished," reports HIM. "It has become a much-loved and appreciated community centre. Every month in 2021, it gathered and connected more than 20,000 believers and seekers. This was live on Zoom meetings, as well as later on YouTube. We have received countless testimonies of encouragement, healing and conversion. In this year of quarantines and self-isolations, the regular weekly meetings with anointed worship, passionate leadership and powerful and Bible-rooted messages were an anchor for scattered Farsi-speaking believers all over the world." Praise God for this ministry!
450HIM-01-29
30 Saturday ~ India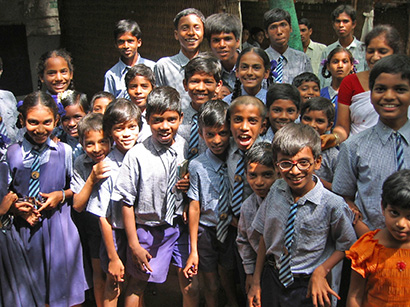 Praise the Lord that Good Samaritan India has raised enough funds to complete the main (ground) floor of the orphanage in Tarlupadu, where 65 children are living. Thanks to those who have given generously. Please pray for funds needed to complete this orphanage, including a small Medical Centre.
620GSI-02-47
31 Sunday ~ Turkey
Turkish Christian Fellowship missionaries need more Arabic Bibles to distribute to refugees, seekers and Christians. Pray for a plentiful supply of these.
416TCF-03-93