November 2022
1 Tuesday ~ Cuba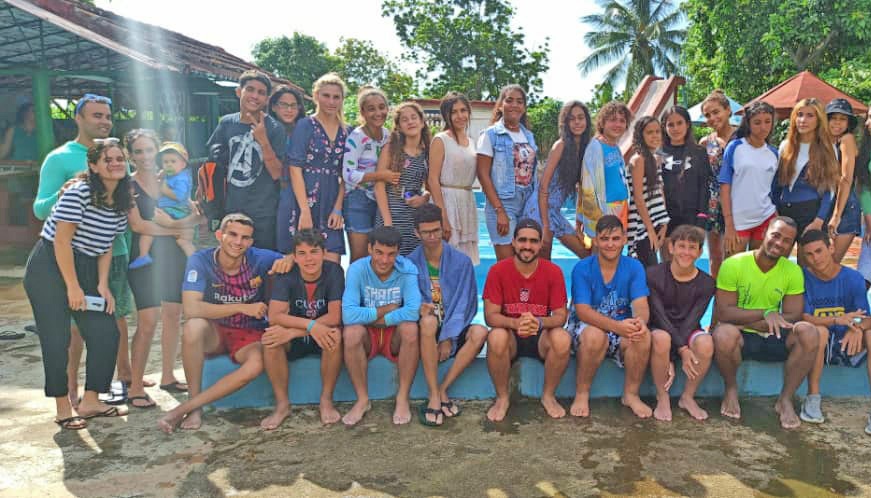 Please pray for God's continued blessings on and provision for Churches of the Open Bible's work with children, youth (see photo) and elders. The Children's Ministry needs $20 per person per month to feed 900 children in different parts of Cuba.
2 Wednesday ~ Canada
Intercede International carries out its Gospel programs with 49 national ministry partners. The full-time staff works diligently to keep Canadian supporters informed about the work of partner missions. They communicate with, occasionally visit these ministries, and help them with challenges. Please keep in your prayers Intercede staff and volunteers, their families and health, and the financial needs of Intercede's home operations.
3 Thursday ~ China
Please pray for God's blessings on and provision for China Mission's Gospel Rehabilitation Centre, in Y province. Praise God for those men whose lives have been transformed through this centre, with God's power. The cost for one new enrollee is $230 per month, for the 18-month program. Pray that more people will be transformed through God's power working through this centre.
4 Friday ~ India
Orissa Follow-Up's leader requests that we pray for the work of the Holy Spirit to continue to bring life transformation among the Lodhas and make them obedient believers of Jesus Christ. They are poverty-stricken but experiencing a rich life in Jesus Christ. Last July OFU inaugurated a new house fellowship among the Lodhas through an OFU student.
5 Saturday ~ Israel
Please continue to pray for Netivah Christian Ministries missionary Ibrahim, his wife Niveen and their three children as Niveen is still recovering from the effects of brain surgery more than a year ago and months of chemotherapy. Pray for her healing physically and for strength emotionally to press forward. She needs to go through extensive rehabilitation. Pray for Ibrahim and the family to be strong.
6 Sunday ~ Canada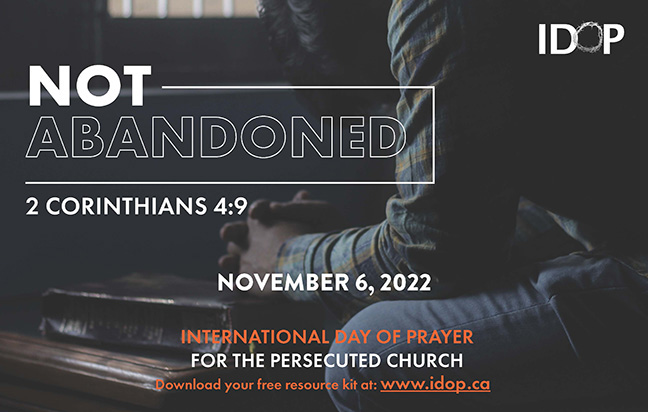 Not Abandoned (from 2 Corinthians 4:9) is the theme for this year's Inter- national Day of Prayer for the Persecuted Church (www.idop.ca), which Intercede helps to organize. Millions of Christians around the world are being persecuted for their faith—seeing their family or friends martyred, suffering in prison cells, being forced from their homes and jobs, and sometimes fleeing their countries for their lives. Some of Intercede's partner ministries face strong persecution from enemies of the Gospel. Please remember our persecuted brothers and sisters in prayer today—and throughout the year.
7 Monday ~ India—Praise Report!
"With joyous heart, I write that Himalaya Crusade is hosting the Golden Jubilee Celebration in Kalimpong," reported HIC leader Joseph Sodemba. "The Celebration has been long pending due to the outbreak of COVID-19 and the lockdown that continued for two years. Our Board decided to have a thanksgiving celebration before this year ends to commemorate the sovereign Lord's guidance and faithfulness in the ministry of Himalaya Crusade. Fifty years of ministry is indeed a moment to thank the Lord and all the fellow workers who have toiled in their respective areas and have become torchbearers of this organization."
8 Tuesday ~ Kenya—Praise Report!
"During our outreach house to house evangelism, one of our pastors was invited to go to pray for a lady who had been sick for several years," reports Kenya Evangelism Team. "She had a swollen stomach like a pregnant woman. Pastor Stephen testified that when he entered the house of this sick lady where she lives with her daughter, he prayed before he sat down. Then the daughter told the pastor about the sickness of her mother. The daughter said they have tried every way in hospitals, witchdoctors, visited several false prophets who falsely prophesized the sickness of that mother and they paid them a lot of money. But all these did not change anything. This servant of God preached to them that healing comes from God not from man and asked them especially the sick lady because she could hear and talk, just to believe Jesus Christ the Son of God who took away all our sicknesses and diseases and hanged them on the cross. She believed the word of God and confessed her sins asking God to forgive her. She was delivered instantly. She can now walk without any support, her stomach is now normal, she can eat and is gaining strength slowly."
9 Wednesday ~ Canada—First Nations
Pray for Rev. Stephen Stoney as he guides and directs Attawapiskat Native Ministries. Pray for the Lord to bless ANM's outreach programs to youth this year
10 Thursday ~ Ethiopia
Pray for Pastor Eshetu Worike as he gives leadership to Rhema Gospel Mission. Pray for complete healing for him from a recent leg injury. Pray for Pastor Worike and for his pastor colleagues, as they preach Christ with power. Pray that the Lord will use them more and more.
11 Friday ~ India
Himalaya Crusade needs prayer and help to strengthen established churches, and build new church buildings. Some church buildings need to be completed: Suresh Burman's church; Romila Sodemba's church in Lepcha village; Daniel Samdup's church in Burtuk, Sikkim among the Sherpas; one church in Nepal. Pray for supply of funds needed to complete these church buildings.
12 Saturday ~ Kenya
"Our dormitory had a small mishap, went through a blaze and children lost property worth $1,500," reports Winnie Owiti of Ebenezer Life Centre. "The painting, replacing window paints and wiring cost $2,500. Please pray about these needs."
13 Sunday ~ Egypt—Praise Report!
Praise God that Reaching All Egypt has sup- ported 20 brides from poor families from villages in Minya, Assiut and Sohag governorates in their marriage preparations by providing each of them with a stove, a washing machine and a fridge. One woman named Sarah declares: "I want to thank you so much. Without your support, my marriage could have been postponed to another year or called off completely. I pray to God to compensate you for all the efforts you make to support poor young girls like me and make their dreams come true. May God stand beside you as you stood beside me."
14 Monday ~ India
Pray for God's blessing on Christian Fellowship Centre's St. Paul Hostel and Public School. Pray that all of the school's students will become committed Christians.
15 Tuesday ~ Jordan—Praise Report!
Last summer, Manara Outreach Ministries' Camp Gilead reached many youth for God. One camper testified: "I came to this camp last year. It was amazing, so I wanted to come again. It was great to hear the messages and topics that we heard here as it's important and we don't talk about them elsewhere. I've been far from God for a while. When we had a campfire, something sweet happened to me. I asked God and He answered me at the moment so this touched and changed me—it's amazing." Praise God for the ministry of Camp Gilead.
16 Wednesday ~ Colombia – Praise Report!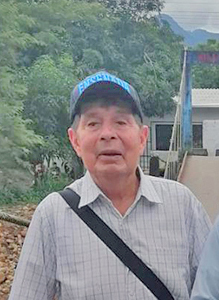 "I want to thank God for being alive," writes Luis Guerrero (photo), founder and leader of Vineyard of Colombia. "I had an accident, and my left hip was damaged. This is my 15th month of dealing with it. For a long time I could not walk. After a while they performed a surgery, and I was hospitalized for two months. Following that I got some therapy. I ministered the Word of God in the Hospital. I prayed for my fellow patients in the hospital, and with the medical personnel. Some of them accepted the Lord as their Saviour. The doctors would ask me to pray for them, and they gave thanks for my physical recovery, seeing the hand of God in it."
17 Thursday ~ Turkey
Turkish Christian Fellowship missionaries do much ministry with refugees living in their region. They ask prayer for Sima, a refugee girl with vision problems. She is 90 percent blind in one eye and the other eye is problematic, since she has a misalignment in both eyes. Please pray for healing and for funds required for surgery for Sima.
18 Friday ~ India—Praise Report!
"Our hearts are filled with joy and gratitude unto the Lord," writes Mariamma Buraga, leader of Siloam Evangelical Fellowship. "We are indeed grateful and sincere thanks to you for so kindly helping us to purchase a new vehicle (van) for our outdoor ministry purpose, and being a part of this ministry that will impact many perishing souls for His kingdom. It was a long-pending prayer request which our Lord has answered through your generosity in support for the ministry. Your support has encouraged our continued commitment to reaching our goal."
19 Saturday ~ Iran
Pray for Harvest Iran Ministries as it provides help to persecuted Christians. Pray for God's protection of all Christians in Iran, especially those in prison, and for release of those prisoners. Pray for freedom for Iranian churches to worship God more openly.
20 Sunday ~ Kenya
Praise God for the new churches Cornerstone Evangelistic Ministries missionaries have planted, and pray for God to provide finances to put up simple structures for them in the Pokot region and Baringo County.
21 Monday ~ Pakistan
Pastor Salem Johnson of Pakistan Gospel Assemblies visited families who were affected badly by the recent catastrophic floods in Pakistan. People are urgently in need of food items, shelter, and a medical camp. Financial support for the flood victims is a high priority for PGA. Please pray for the Lord to provide for this need.
22 Tuesday ~ Liberia
Pray for God to be with and protect Christ Evangelistic Fellowship Ministries' missionaries as they reach out to unreached tribes, and trek regularly into the hinterland, or drive along treacherous roads, among idol-worshippers and dangerous animals.
23 Wednesday ~ Pakistan
Pray for comfort for the Johnson family as they mourn the loss of Bishop William Johnson—founder of Pakistan Gospel Assemblies. He was promoted to glory on August 3, 2022. Pray for the leadership transition of PGA.
24 Thursday ~ India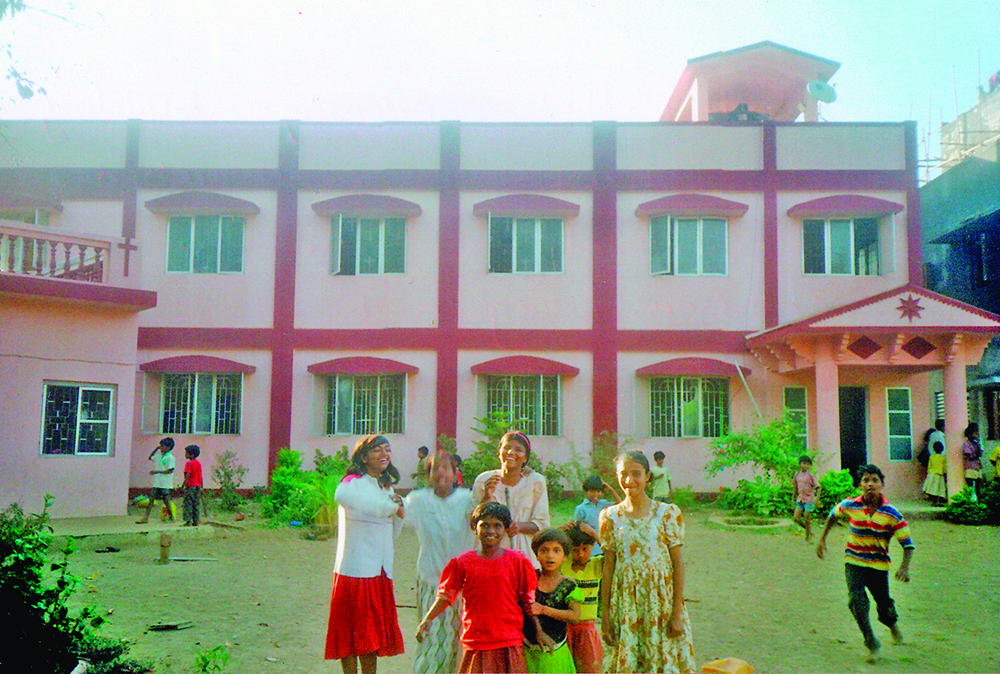 Please pray for the orphans and destitute children in Bombay Revival Prayer Band's Shelter Ark Orphanage—for their good health, well-being and for every need of theirs to be met.
25 Friday ~ Ukraine—Praise Report!
"In August, the nine-seater bus for children and regular use finally arrived in Germany and the keys to it were handed over to Roman Korniyko! Thank you for such a wonderful gift," reports Father's House. Thank the Lord for providing for and protecting Father's House missionaries and the children and youth in their care during the war in Ukraine.
26 Saturday ~ El Salvador
"By God's grace and the generosity of Canadian brethren we are in the final stages of the construction of the Sanctuary buildings," reports Pablo Gonzalez, leader of New Life Ministries. "The trade centres have a roof now. We need to finish the flooring, and interior details. The dormitories are in need of finishing in the bathrooms, some doors, and ceiling, and hydro. We estimate that $20,000, will cover all the needs to finish up the construction." Please pray for provision for the Sanctuary project.
27 Sunday ~ South Sudan
Praise God for His generous provision for South Sudan Mission's Savannah Children's Centre, and for the Canadian Christians who have been supporting and praying for this project. Pray for good health for all of the children and youth in the care of this ministry.
28 Monday ~ Haiti
Approximately 80 percent of the children in Living Word Ministries' Kingdom Kids program come from families barely able to provide food, let alone buy school supplies. To help these precious children with school needs, $85 would provide a uniform, a pair of tennis shoes, books, and a book bag. LWM now needs about $8,100 to help out children connected with this ministry. Please pray about these needs.
29 Tuesday ~ India
Pray for wisdom for Pradeep, the leader of Peace Ministries India. Pray that this ministry and its missionaries will continue to demonstrate in word and deed the love of Christ.
30 Wednesday ~ Peru
Churches of Ayacucho needs a Bible Institute "so we can prepare our workers better, so please pray for that," requests the leader of COA. "We need $8,000 per year to run this program which includes lodging, manuals, food, and teachers' compensation." Pray for God's blessing on and provision for COA's training of pastors and church leaders and discipleship of new believers.