September 2022
1 Thursday ~ Ukraine
"Our basement served as a shelter during the shelling to foster families, staff and evacuated families from Bucha," writes the leader of Father's House. "Therefore, we are looking for opportunities to build a bomb proof-shelter according to all the norms and regulations, which will cost $38,000. There are many children and adults whose lives are in danger and are closely connected to Father's House. This shelter will enable a safe refuge in times of high alert. In addition, upon arrival to Ukraine of all the orphans, there is always a risk of a re-invasion and we will ensure the children's safety with a proper shelter." Please pray for provision for this project. Father's House staff and children are currently in Germany (see photo).
2 Friday ~ China
Please pray for God's blessings on and provision for China Mission's Gospel Rehabilitation Centre. Pray for the Centre's missionaries. They make themselves available for the residents 24 hours per day, 365 days per year. They will not ask for a day off unless it is a family emergency. May the Lord bless their families, grant them health and peace. Pray that more people will be transformed through God's power working through this centre.
3 Saturday ~ Uzbekistan
This year, Uzbekistan Christian Fellowship plans to help financially the Bukhara church. The roof of their church building is old and leaks in the worship hall. It is better to start the roofing work before the autumn rains, so UCF missionaries want to start reconstruction as soon as they can buy the construction materials.
4 Sunday ~ Bolivia—Praise Report!
"On April 26 we had an evangelistic meeting with soldiers with the army who are in our area," reports Marcela Carbalho, leader of Serving Jesus Christ Mission. "They have come to help, and to provide security in the area. As a result of the outreach, 30 soldiers received Christ as their Saviour. By God's grace we are now discipling them with the program called 'New Life in Christ.' We thank God for those souls."
5 Monday ~ Canada—First Nations
Pray that Canada Inuit Ministries will bring healing and God's salvation into the lives of Canada's Inuit and other First Nations people. Praise God for changed lives through CIM with God's power.
6 Tuesday ~ Philippines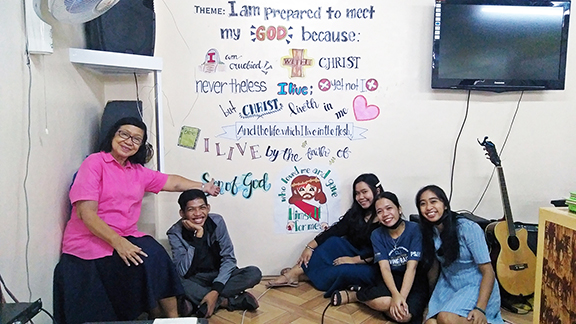 Please pray for good health, strength, wisdom, protection and provision for Ruth Palma, as she leads Smoky Mountain Ministries. Ruth has suffered from health problems in recent years. Pray for her complete healing.
7 Wednesday ~ Cuba
Churches of the Open Bible needs funds to build or repair some church buildings. For instance, the El Purio Church needs a new building ($3,500). The ministry greatly needs construction materials. Please pray about these needs.
8 Thursday ~ Israel
"We continue to have a need for a larger facility to accommodate the growing youth activities," reports Netivah Christian Ministries leader Joel Goldberg. "Please pray with us for a solution in the near future, and pray for the Baptist village team that is working with us to maximize the facility."
9 Friday ~ Indonesia
Pray for peace between Christians and Ns in Indonesia, and for many Ns to receive salvation. Pray for God's blessings on Oneness Fullness Witness's outreach work among N people. Pray for lasting peace in Indonesia, and for God's protection of all Christians and churches there—with no riots, destruction or church burning.
10 Saturday ~ Sierra Leone
Please intercede for healing for Mitford Macauley, leader of New Creation Ministries. His health is in a desperate situation. "We contacted his doctor here who has advised that he should return immediately to Ghana in the next few weeks or else the situation will go beyond remedy," reports an NCM missionary. "We are requesting your support to fly him to Ghana for the urgent medical need since we do not have time in our favour. Your support and prayers for him will be greatly needed to save his life." Praise God that Intercede and its supporters have sent funds to NCM for this purpose. Mitford is in Ghana now. Pray for his speedy recovery and for funds for his return trip.
11 Sunday ~ Canada
Intercede International carries out its Gospel programs with 49 national ministry partners. The full-time staff works diligently to keep Canadian supporters informed about the work of partner missions. They communicate with, occasionally visit these ministries, and help them with challenges. Please keep in your prayers Intercede staff and volunteers, their health, and the financial needs of Intercede's home operations. 
12 Monday ~ Azerbaijan
Pray for Brotherhood of Azerbaijan's missionaries to reach out successfully to the Talysh people, and print Christian literature in the Talysh language ($9,160 needed). Praise God for the thousands of people whom BOA has already reached through this ministry. Thank the Lord for those who have supported this project financially.
13 Tuesday ~ Thailand
Praise God that many people have been showing an interest in Elios Ministries' Bible correspondence courses. Pray for the Lord to continue to bless and provide for this program, and for many people to become Christians after reading this literature, through the Lord's work. Pray for the cost to print Bible correspondence lessons.
14 Wednesday ~ India
Pray for protection for Himalaya Crusade's missionaries who work in dangerous areas such as Bhutan, where Christians face persecution. Pray that God will defeat the powers of darkness throughout the regions in which this mission works. Pray that God will continue to protect Christians in this region.
15 Thursday ~ Nepal
Through contributions from many believers, a new Evangelical Christian Fellowship church on the outskirts of Kathmandu is almost complete and the believers there are very excited for their new place of worship. ECF needs some funds to complete payments for the church building.
16 Friday ~ India—Praise Report!
India Christian Ministries missionaries recently distributed 30 Old Testaments and 45 New Testaments with Proverbs in seven villages. "Some people are very poor and are daily labour workers," reported ICM. "They cannot possibly buy their own Bibles and read them. Now they have the Bible and are really happy about it. They are very helpful to them. The Bibles are in their own language of Oriya. They said that they are really a big blessing for them. They have been waiting for Bibles for a very long time. The local pastor advised them to read the Bible daily, five chapters per day, and whenever they have time memorize Bible verses and write them down in a notebook. A miracle will happen by reading the verses. Thank you so much for this help."
17 Saturday ~ Vietnam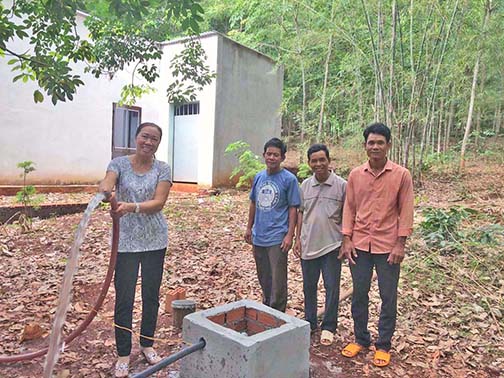 Vietnam For Christ reports that there is a need for more fresh-water wells in Vietnam for Christian communities. For instance, the Bru and Pa Ko church members have no clean water to drink. It costs at least $1,250 to drill a well, and in the drought areas it may cost double that. VFC is praying for $25,000 for 20 water wells for these communities.
18 Sunday ~ Kenya
Ebenezer Life Centre's schools have been opened since the pandemic has subsided, but there are many requirements to ensure the children's safety at school. Pray for good health and safety for the children and youth who study at ELC's schools.
19 Monday ~ Myanmar
Pray about Myanmar's instability and violence in many places. Pray for peace. Witnessing For Christ missionaries need so much of His protection daily. Pray for the health and strength of WFC workers who need to travel sometimes into very difficult areas.
20 Tuesday ~ Ethiopia
Pray for Pastor Eshetu Worike as he gives leadership to Rhema Gospel Mission. Recently he spent time in hospital with a leg injury. Pray for complete healing for him.
21 Wednesday ~ India
Pray for God's continued blessing of India Christian Ministries' Widow Care and Family Care programs, and ICM's development work with women living in poverty. Praise God that ICM now supports about 165 widows every month in eight different centres.
22 Thursday ~ Egypt—Praise Report!
Afaf told Reaching All Egypt: "My husband and I used to sell vegetables and spend the little money gained on our living. We got infected with COVID-19, which affected our work and consequently affected our home and the expenses of our children. RAE supported us during this hard time. God bless them." Om Emad said: "I am a widow living alone and I got infected with COVID-19. During that time, I was in need of help. RAE supported and encouraged me—which helped me to trust God. He doesn't leave me alone but I feel His love surrounding me in all the conditions of my life."
23 Friday ~ India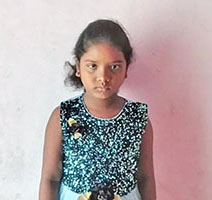 About 20 new children have joined the Good Samaritan India family this year. Sanjana is an eight-year-old girl in the care of GSI who is deaf and unable to speak. Her parents are daily labourers and unable to take her to get treatment. Her parents went around and were unable to get any support. Finally, they came to the Lord. GSI is trying to help Sanjana through some kind hearts. Please pray for GSI missionaries as they take care of Sanjana.
24 Saturday ~ Colombia
Praise God for Vineyard of Colombia's good work reaching tribes such as the Sikuanis, Piapoco, Guahivo, and Piriri. Many of these people are coming to the Lord. Pray for safety for VOC's missionaries as they travel and work in dangerous conditions.
25 Sunday ~ Nigeria
In June, Muslim bandits ransacked the Kanda field of Intercede's partner mission in Nigeria, kidnapped two of their missionaries and killed the field leader. "He died leaving three children and his wife behind," reports the ministry leader. "Our mission field was ransacked and the whole community had to leave. Many of them were killed. Our mission has been struggling with trauma, pain and fear as we have had to resettle our missionaries from the mission field for now. The situation is critical. Bandits are destroying law and order in states and killing people. In early July, they killed 31 soldiers who went to protect the people." Pray for God to comfort and encourage the family of the missionary who was killed.
26 Monday ~ South Sudan
Wilson Waswa, Director of South Sudan Mission, had a major operation recently and needs to repay $2,000 for that. Please pray about this need.
27 Tuesday ~ India
Bombay Revival Prayer Band's Sharon English School, which operates for its orphans and destitute children and for village children in the surrounding area, and which is also the only local Christian school, is expanding. BPB has started construction on this project, which consists of building the ground and two more floors, with eight classrooms total, and several washrooms. Praise God that generous Intercede prayer partners have provided about $64,000 for this project, leaving $88,000 left to raise. Please pray for the Lord's provision for remaining costs.
28 Wednesday ~ Liberia
Pray for the Lord to bless and provide the needed funds for Christ Evangelistic Fellowship Ministries' crusades and revival meetings. Pray for more souls to be won to Christ through this ministry.
29 Thursday ~ Nepal
Pray for God's grace and favour upon your hard-working Gospel partners with Gospel Outreach Centre, most of whom are also subsistence farmers. They are facing fertilizer shortages this planting season. Their harvest is likely to contract by as much as 30 percent. Pray for an abundant harvest, and for plentiful support for GOC's missionaries.
30 Friday ~ Liberia—Praise Report!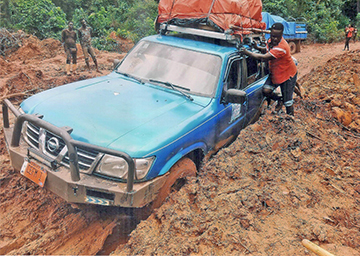 "With joy, I am pleased to report to you that the 36th Christ Evangelistic Fellowship Ministries Annual Meeting ended successfully in Maryland County," reports CEFM leader James Cuffee. "We had a difficult time on our way to Maryland. I took a 20-man delegation. Our cars got stuck in the mud many days. Where we got stuck there was no food and water sold there. We went hungry for many days. However, I thank God we made it. Our vehicles also broke down; their bearings got damaged. Still, the Lord made it possible to get there safely. The power of God was with us and 23 persons gave their lives to God. Thanks for your prayers and support."